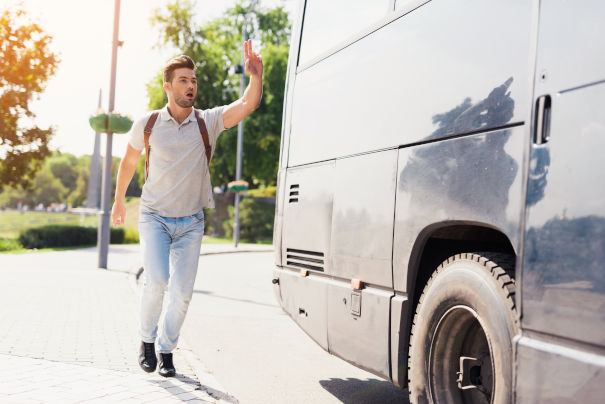 We live in a fast-moving world where no one stops for anyone, not even a bus. There are a lot of  unexpected cases people say "i missed my bus" . Once you miss it, you can either run after it or wait for another one to come in its place. Certain uncontrollable events may cause you to miss your bus. However, these events aren't the only reasons that might stop you from reaching the bus station in time.
If you booked an intercity ticket to attend an event that got postponed then you would also like to postpone your trip. You would have two choices in such cases. it's possible to cancel a ticket or book a new one on a later date or you can update your existing ticket to a new time. You will have to pay a little fee for both cancellation and updation of your ticket.
Can I Claim Compensation ?
It is normal for people to miss a bus in this fast-moving world which is why it is always good to have a backup plan. Now people might wait for the next bus but what about the money they paid while booking their bus ride. Can they get any compensation for that? Well to answer that question we will have to take a look at how different bus companies deal with such cases.
Flixbus
Flixbus is a very prominent intercity bus company in Europe. There can be a lot of reasons for you to feel that you are going to miss your Flixbus. Maybe the alarm did go off on the right time or maybe the meeting took longer than you expected. No matter the reason, if you feel that you will not be able to catch the bus in time then you can call the company and cancel your booking. You can also use the Flixbus app to cancel the booking however the cancellation should come at least 15 minutes before the departure time. You will be charged around 5 Euros as a cancellation fee. After deducting the cancellation fee Flixbus will generate a voucher for the remaining amount. You can then use that voucher to claim your money. The voucher will only be valid for 12 months.
National Express
If you miss you National Express coach then, unfortunately, you cannot get compensated by it in the future. To get compensation for your booked ticket, you have to cancel the booking at least 72 hours before the departure date. National Express offers different levels of ticket. You will only be able to get a refund if you book a fully flexible fare ticket or a standard fares ticket with an add-on of fully flexible fare. National Express charges £5 cancellation fee per person.
Ouibus
Ouibus offers one of the most customer-friendly services when it comes to cancelling a ticket. If you feel like you are going to miss the bus then don't worry just take out your phone, access the Ouibus app and cancel your booked ticket. Ouibus does no charge any cancellation fee up to 30 minutes before departure of bus  if you cancel through their app or website. This gives them an advantage over their competitors.
Megabus Conclusion
If you've booked a ticket through Megabus then be sure to reach the bus station on time. In case you kept sleeping or missed the bus for any other reason then that would be a loss for you. Megabus does not offer any refund if you don't show up on time.  If you know that you will miss your Megabus then you can change your ticket to an updated time. You have to contact Megabus at least 6 hours before the departure time. Megabus will charge you extra for updating your ticket.
It's better to do not say "I missed my bus"
It is crucial to be aware of the rules and regulations of the bus company that you are riding with. Bus companies let you cancel tickets before departure time given that follow specific rules and regulations for the respective company. Passengers can call the company and ask for the cancellation of the ticket. However there are many bus companies out there that let you cancel through their website or mobile apps. Most of the bus companies do not offer any refund if you don't show up at all however they all offer the service of updating your ticket to a new time. You might pay extra for that but updating your ticket might still help you reach your destination in time.