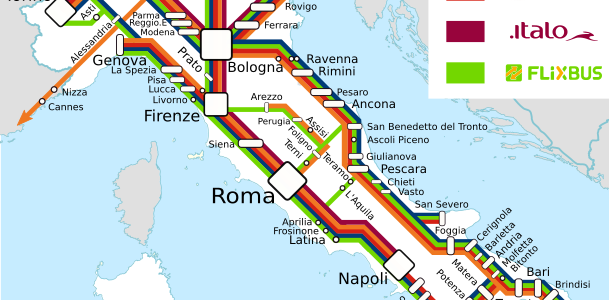 Are you going to soon travel to Italy by bus? What are the bus lines in Italy? What are the destinations and cities covered by buses? A brief presentation of the bus network in Italy.
Summary :
The main bus routes in Italy
A network of developed bus lines
Italy is a country in Southern Europe. The bus market in Italy was liberalized in 2014. Since then, many Italian coach companies have extended their bus networks throughout the country.
The main bus routes in Italy
Map of bus routes in Italy
The extensive bus network connects major cities in Italy such as Rome, Florence, Turin, Milan and Bologna.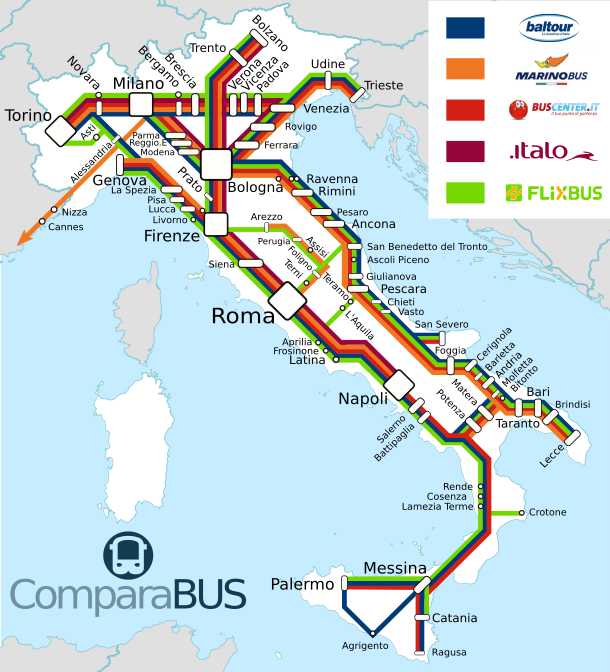 Bus companies in Italy
Many bus companies are present in Italy, the most important are as follows:
Presentation of the FlixBus Company
FlixBus has been present in Italy since July 2015. Its fleet consists of 200 coaches connecting more than 200 Italian cities, but also many European destinations. All the group's coaches are equipped with Wi-Fi, toilets, air conditioning and very comfortable seats.
Map of FlixBus destinations in Italy
Presentation of Baltour Company
Baltour is one of Italy's leading long-distance bus companies. The coach operator connects 17 regions and more than 130 cities across Italy every day. Internationally, Baltour connects 23 countries with more than 350 cities. Each year, the Baltour group transports more than 4 million passengers.
Map of Baltour destinations in Italy
Presentation of the Marinobus Company

Marinobus was founded in 1957, in the region of Apulia in Italy. The company currently manages a dense network of bus lines that run through the regions of Puglia and Basilicata, to the most important cities in central and northern Italy but also to the most important European cities.The most important objective for Marinobus is customer satisfaction. The Marinobus group consists of 170 new generation buses with very comfortable seats.

Carte des destinations Marinobus en Italie