FlixBus buses started serving in the USA since May 31, 2018, at just $ 2.99, 25 stops in 21 cities located on the west coast of the United States: Los Angeles, Las Vegas, Phoenix, San Diego, Tucson, Henderson …
FlixBus has already placed themselves in Los Angeles to develop 180 daily connections in the United States. In parallel, the German company aims to grow by 30% and strengthen its lines in its main market: Europe.
Summary :
The launch of the first Flixbus bus lines in the United States
May 31, 2018, is marked as a major turning point for FlixBus, which was the launch on the American continent. The FlixBus in the United States started at just $2,99. Indeed, FlixBus intends to reuse the ingredients of its European success which is based on attractive prices and the quality of its service. The company provides 180 daily bus connections between 21 US cities. FlixBus buses in the United States will serve 25 stops in the 21 cities.
The map of the bus network, FlixBus destinations in the United States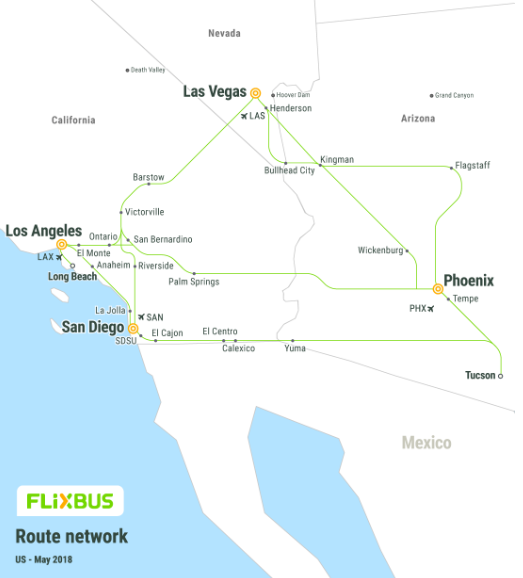 Some FlixBus bus routes in the United States
---
After Europe, FlixBus strikes the long distance bus market in the United States
FlixBus, a major player in the European bus market
The bus company FlixBus was born in 2013 following the deregulation of the German market. It offers more than 250,000 daily coach connections to more than 1700 destinations in 28 European countries. In a few years, the company became the leader in long-distance coach transport in Europe..
FlixBus Company's entry into the United States
Strong of its European ascent led by Pierre Gourdain (general manager), FlixBus does not intend to stop there and wishes from May 31, 2018, to conquer the United States to become a major player of the International transport.
To meet this challenge, the German firm has set up offices in Los Angeles to develop a network allowing FlixBus buses to connect the major cities of the west coast of the United States. To carry out this challenge, the director of FlixBus intends to reuse the same strategy as in Europe:
Reviving the image of the coach trip
Price accessible by all (tickets from just $ 2.99)
Quality service
Creating multiple connections
FlixBus objectives in the United States
At the end of 2018, FlixBus will expand its range of bus destinations to 21 cities with the help of its 6 regional partners and strengthen its connections (from 180 connections to 1,000 daily connections) in the United States.
The main goal of the bus company is to move from challenger status to leader status in the United States.
---
FlixBus in Europe, the leader continues its development
In 2017, 5.2 million passengers boarded the FlixBus buses. Indeed, as the figures show Europe is the most important market.
For 2018, FlixBus will continue to develop the European market with the following objectives:
Increasing the frequency of FlixBus buses
Setting up 30% more connections than in 2017
Reach 350,000 daily connections on international lines and domestic markets
---
FlixBus in France: expansion of the network
The French market is with Germany one of the largest markets in Europe. By this summer, FlixBus will continue to grow on its network of bus lines in France with:
A 30% increase in network
50 new stops and 50 additional bus routes
A domestic offer with a total of 230 bus stops and 180 bus lines
Source: FlixBus